Description
Drone Patch custom designed for Drone Pilot with a black background, yellow sign and grey drone logo. Spice up your drone pilot equipment by adding an eye-catching drone patch. Made with durable twill fabric, the patch is resilient to heat and both iron-on and sew-on. You don't have a drone licence yet? Check out our partner patentinoperdrone.it for great discounts!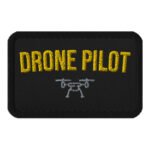 Drone Patch Pilot Badge
The Drone Patch is our own latest handmade design creation. This product is designed for commercial operator, private security, Police, security agencies or a drone hobbyist. Anyone can be inspired by and showcase the new Drone Patch, the ideal accessory to compliment your equipment and clothing!
Black backing with yellow writing and grey logo, measuring 6 cm x 9 cm
What's the difference between iron-on and sew-on?
The difference between iron-on and sew-on patches is that the iron-on patch has a layer of glue on the backside. Sew-on patches usually feature a simple design made of fabric and thread with no glue or plastic along the back. An iron-on patch will have a cloudy look and shiny look on its back, whereas sew-on patches will simply look like fabric.
Pilot Patch details
26% cotton, 74% polyester
3″ (7.6 cm) in diameter
Attachment options: iron-on, sew-on, or safety pin
Worldwide shipping